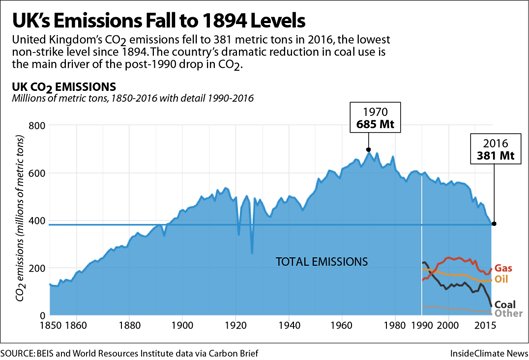 Via
Twatter
comes this interesting graph. We're back to pre-1900. At first I was deeply suspicious, but I think it holds up. The claimed source is "
BEIS
and World Resources Institute" via Carbon Brief. And that leads me to
UK Carbon Emissions Fall to 19th Century Levels as Government Phases Out Coal
(from March, so I'm hardly up to the moment). Which is I think wrong; the UK govt doesn't burn coal, it leaves that up to the electricity generating companies, as you'd expect. If we're attributing most of the drop to the loss of coal, then we can expect progress to plateau soon, because as the detail shows, we're almost out of coal to stop burning.
They say (apropos of
this discussion
) "Carbon Brief also attributes the precipitous drop in emissions from coal to the country's carbon tax, which doubled in 2015 to £18 ($22) per metric ton of CO2" (so perhaps we can credit the government to some extent :-). Of course, $22 per ton (per C? Per CO2? I can never remember) isn't large by ~$50 type standards which are what I tend to think of as "about the right value". But if that's big enough to have the "desired" effect, then fair enough.
Refs
*
WATTS SIDEKICK COPS A PLEA ON THE 2nd LAW OF THERMODYNAMICS
- RS