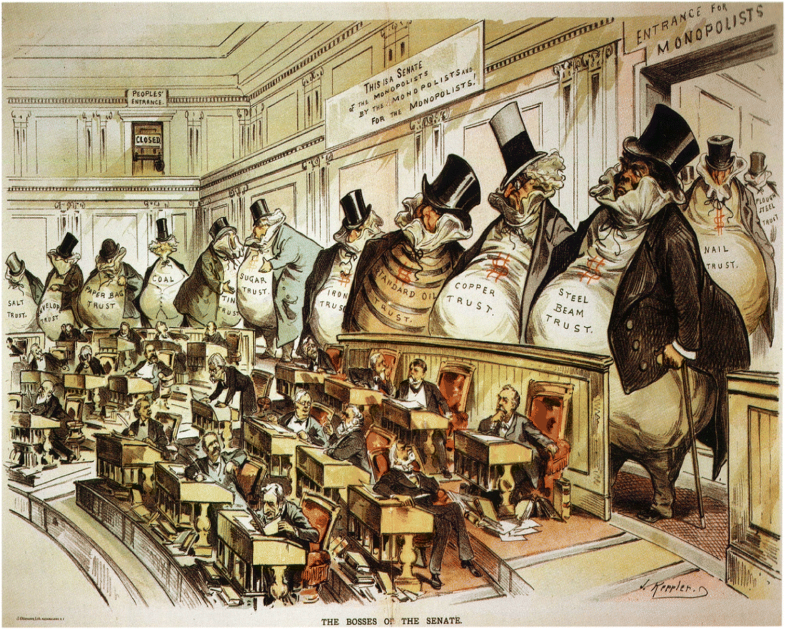 Via
Twatter
(
and VV!
), I discover that
Fossil fuel industry spent nearly $2 billion to kill U.S. climate action, new study finds
; and
Industry has out-lobbied environmentalists 10-to-1 on climate since 2000
. I can't say I'm terribly surprised, though I'm going to quibble the numbers, and I'm not at all sure they mean quite what the breathless think they mean.
The study is actually a
proper published peer-reviewed thingy by Robert J. Brulle
in
Climatic Change
, and even for a journal devoted to the
Description, Causes and Implications of Climatic Change
it seems a teensy bit political rather than sciencey to me, but meh. In case you're in any doubt, though, the study includes a cartoon
The lithograph "The Bosses of the Senate" by Joseph Keppler
to make it's biases clear.
Lobbying, though it has a poor reputation, is part of the communication within any governmental system. There are two sorts of lobbying: good lobbying, which is done by people you like for causes you support (after all, as our source tells us, the Evil Fossil Fuel industry has outspent the Nice Environmentalists 10-to-1, but that does imply $200 million spent lobbying by the env folk
1
, all of it Good) and Bad Lobbying done by people you don't like for causes you oppose. Somewhat more seriously, the Good lobbying should be information feedback into the system, not buying the system. Alas, attempts to allow only Good lobbying are stymied by it being hard to tell from Bad by objective criteria, and by the desire of the political class to permit lots of opportunities for lobbying, for the obvious reasons. The solution, of course, is to have government Do Less, thereby lessening the potential for lobbying.
Quibbling the numbers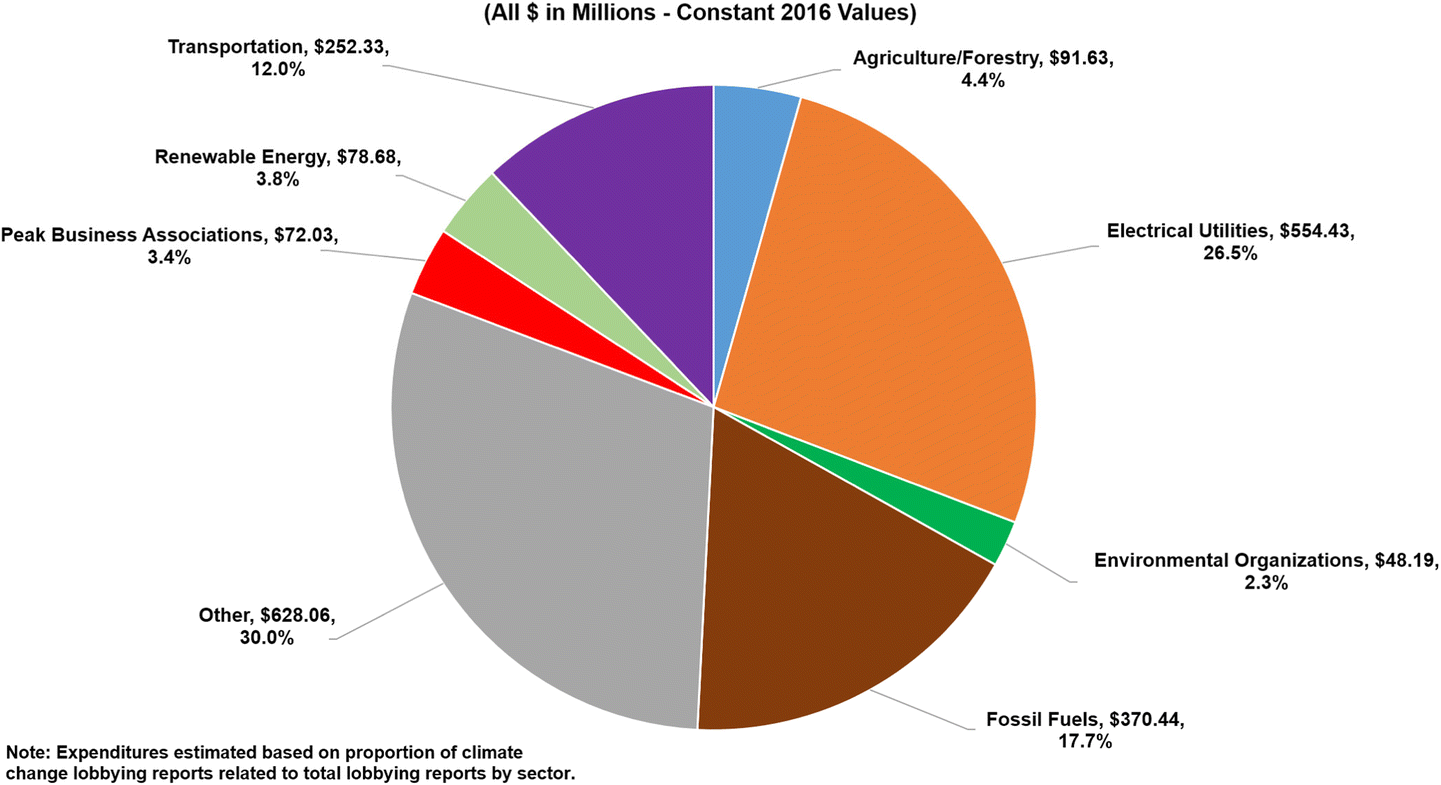 Just accepting the numbers is no fun; you'll expect me to quibble them so I will.
The total spend (2000 to 2016) was about $2 billion, which is about 4% of the total. The annual average is about $120 million.
Before we go on, allow me to tell you something that won't interest you:
During the 2016 election cycle, organised labour spent $217m—88% of it going to Democrats
, according to The Economist. Are you outraged by that? Probably not, since it is Good lobbying. The lobbying data seems to have come from Open Secrets, and they
make it available per sector
. Health is the biggest; there's loadsa dosh in healthcare in the US.
Aanyway, what of my quibbles? Well first of all $2 billion is all lobbying, so it includes the Good lobbying by the env folk. Rather more importantly though it includes a pile of other folk too: see the picture I've inlined from the study. So the FF spend is $370 million, the EO is $48 million. And so ThinkProgress's proud headline is a lie. Quite possibly not a deliberate lie; most likely they're just too lazy or too stupid to trouble themselves to read the paper. You'll also notice that the ratio of 370 to 48 is not ten-to-one, that's because the one in 10-to-1 is EO and the renewable sector, and I think they threw some other bits - maybe electrical utilities - into the "fossil" basket (does that mean EU doing solar are counted in the "fossil" basket?).
My second quibble is that they identify climate lobbying by keyword search within lobbying records. Each lobbying record is (I presume) likely to have a number of keywords in it, and (or so it seems to me) likely that if you did this analysis across a wide variety of topics, you'd discover that you'd counted more than 100% of the total lobbying expenditure. This is a point that I'd have expected the paper to address; but if it did, I missed it.
Other sources
My main quibble, though, is going to be suggesting that lobbying isn't necessarily the major source of influence. The paper doesn't consider this point; it's only interest is lobbying, nothing else. So if I were to look at my native UK, or indeed anywhere in Europe, I'd discover that "believing in global warming" or however you choose to phrase it is official government policy. I'd probably also discover that FF folk outspend the Env folk, but that both are outspent by Govt propaganda.
You'll riposte that isn't true in the good ol' US of A. But would you be right? We're talking 2016 and before, not the Trump era, so that includes 8 years of Obama presidency, which was actually rather GW-friendly, though admittedly not to the extent of managing to do anything useful.
Notes
1. Ah, no, it doesn't make $200 million: see the Quibbles section. I was dumb enough to beliave TP's headlines. Never mind, the principle remains.