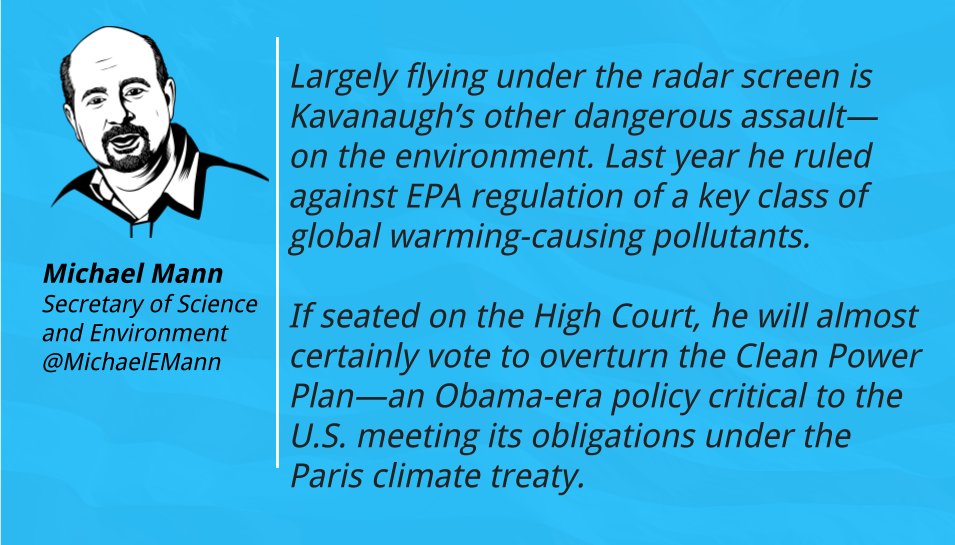 So says
Michael Mann
. Although that link is only to someone else reposting something Mann said, and annoying only "said" in the form of an image
1
.
Aanyway, the relevant case is I believe
Mexichem Fluor, Inc. v. EPA
. And since I took the trouble to find that out, and read some of the decision, I shall blog about it. You'll be unsurprised to learn that while MM's soundbite is mostly true, it elides a great deal of important detail. For example, just like
the recent Alsup
case, K was entirely happy to take all the GW science at it's word.
The
actual judgement is here
(or
here
). The argument, as in so many of these cases, is arcane and complex, hinging (sort of) on the meaning of the word "replace". It's worth pausing for a moment to think about this point: the higher courts don't hear simple cases where the answer is obvious to the lower courts; or indeed so obvious that it never comes to court. This kinda returns us to
a point I was trying to make before
: that if the legislature wanted to make these points beyond doubt it could. It could either explicitly give the EPA authority, or withhold it.
Background
Quite some time ago, in 1990, section 612 of the Clean Air Act was passed, and requires manufacturers to replace ozone-depleting substances with safe substitutes. In fact that - although a quote from the judgement - is a slightly dodgy paraphrase; the exact rule is quoted later:
To the maximum extent practicable, class I and class II substances shall be replaced by chemicals, product substitutes, or alternative manufacturing processes that reduce overall risks to human health and the environment
. What that adds to the paraphrase is "to the maximum extent practicable" - but that's not important, because no-one tried to contest that point - and using "
reduce overall risks to human health and the environment"
instead of the hard-to-interpret "safe". But as it happens, that didn't matter either, because K was entirely happy that HFCs could be called, colloquially, "unsafe", because they cause GW. Indeed, K was quite happy for the EPA to move HFCs from the "safe" list, where they had previously been (because they didn't deplete ozone) to the "unsafe" list (because further research had revealed they cause GW). Indeed, he's even happy that the EPA, in doing that, may prohibit anyone from replacing an ozone-depleting substance with HFCs
2
.
Foreground
So what does that leave as a problem? The problem was that the EPA wanted to use that authority to oblige people using HFCs to replace them with something that doesn't deplete ozone, and doesn't cause GW; or at least not so much. However, the act appears to only give the EPA authority to force people to replace ozone-depleting substances; and HFCs aren't. Is this a bit Jesuitical? Yes, but that's the law for you. Is it a reasonable reading of the law? I think so; and of course on of the other two judges on the case concurred. Could one make a reasonable case for the opposite? Yeees, probably. Indeed the dissent (Wilkins) does so (page 26). Is this an example of K clearly being unreasonable? No.
Hobbes
As
Hobbes puts it
, concerning ambiguity in the law,
In all Courts of Justice, the Soveraign (which is the Person of the Common-wealth,) is he that Judgeth: The subordinate Judge, ought to have regard to the reason, which moved his Soveraign to make such Law, that his Sentence may be according thereunto; which then is his Soveraigns Sentence; otherwise it is his own, and an unjust one.
So it is pleasing to see K address this by referring to what the Senate considered, when writing the law:
The Senate's version of the safe alternatives policy would have required the replacement not just of ozone-depleting substances, but also of substances that contribute to climate change. Id. sec. 702, §§ 503(8), 514(a). In other words, the Senate bill would have granted EPA authority to require the replacement of non-ozone depleting substances such as HFCs. But the Conference Committee did not accept the Senate's version of Title VI. See H.R. Rep. No. 101-952, at 262 (1990) (Conf. Rep.). Instead, the Conference Committee adopted the House's narrower focus on ozone-depleting substances. Id.; see S. 1630, 101st Cong. sec. 711, § 156(b) (as passed by House, May 23, 1990). In short, although Congress contemplated giving EPA broad authority under Title VI to regulate the replacement of substances that contribute to climate change, Congress ultimately declined.
Etc.
There was
a petition for a rehearing
en banc
4
, that was
simply denied
; so it is
appealed to the supreme court
.
Notes
1. I can't find the quote
via Google
. Reverse image search says the image appeared in Mann's Twitter feed some time in 2017, and I have no reason to doubt it is his. The slightly odd "Secretary of Science and Environment" bit is from
the Shadow Cabinet
.
2. Although, as the judgement notes, this is probably unimportant, as it is unlikely if there is anyone left still using ozone-depleting substances. Update: ah no, That's not quite what it says: footnote 2 is:
The parties disagree over whether, as a factual matter, any manufacturers still make products that use ozone-depleting substances. EPA says yes. Mexichem and Arkema say no. We need not resolve that factual dispute here, as it has no bearing on our legal analysis of the meaning of Section 612(c).
3. Also note that "flying under the radar
screen
" is an odd way of putting it. The analogy is with a plane, flying underneath the radar beams. The "screen" is just the read-out from such a radar; a plane would not meaningfully fly under the operator's screen.
4. Which I'm guessing means "with a wider panel of judges", perhaps the "full court".
5.
laws, when good, should be supreme; and that the magistrate or magistrates should regulate those matters only on which the laws are unable to speak with precision owing to the difficulty of any general principle embracing all particulars
- Aristotle, Politics.
Refs
*
What Brett Kavanaugh on Supreme Court Could Mean for Climate Regulations
*
Schumpeterian Profits in the American Economy: Theory and Measurement
– Yale economist
William Nordhaus
*
VIM cheatsheet
; thanks Paul.
*
Salon thinks we're about to exist under an oxymoron: Neoliberal fascism
by Tim Worstall.
*
Climate change and compassion fatigue
- ClimateSight.