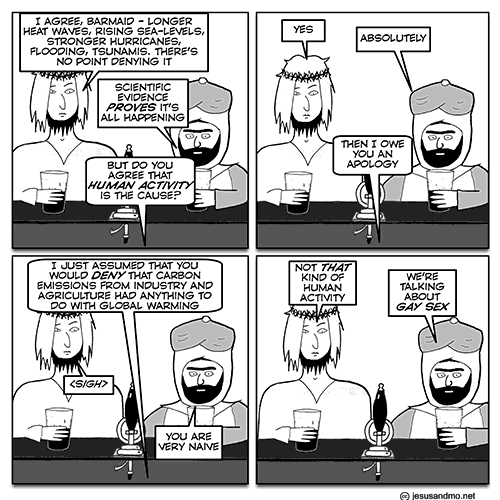 #1 in a series of "my friends have taken this idiot seriously so I paid some slight attention"
1
. ATTP has discussed
him and his a few times
and it wasn't very interesting. But now JP has chosen to say things about global warming which makes it obvious that he's a fuckwit, so I can conclude my opinion-forming process with "tosser". There's a convenient transcript of some of his words by
CliSep
, who I think are dodgy, but
ATTP Twitted their link
, so I guess that's OK.
We start off with
Well, I don't really have beliefs about climate change, I wouldn't say. I think the climate is probably warming, but it's been warming since the last ice age, so..
. This is a bit shit, taken together. There's nothing wrong with "
Well, I don't really have beliefs about climate change, so I'd rather not answer your question"
or some other such deflecting formula; but having professed no knowledge, there's no justification for going on and pushing out your beliefs
2
. There's a get-out-card available for him, perhaps, if he wishes to distinguish "beliefs" and "knowledge": perhaps he knows a lot, but doesn't "believe" in it? But if so, he should be clearly distinguishing the two; otherwise he's just guilty of muddled talking, and probably muddled thinking.
In answer to "But It's dramatically accelerated in the last couple of decades" we have
Yeah, maybe, possibly, it's not so obvious, I spent quite a bit of time going through the relevant literature, I read about 200 books on ecology and economy
. Again, there's the contradiction between his original assertion of lack-of-belief, and his apparent vague but firm knowledge that "it's not so obvious". This is then followed up by a claim to have looked at the "relevant literature", which then turns out to be ecology and economy.
These are obvious points the interviewer should have picked up on. But the interviewer is as thick as pigshit and totally fails to notice, so JP gets a free pass in the interview. But not from me. Is he genuinely so muddled that he doesn't know that he needs to look at physical climatology, if he is interested in the temperature record? That the IPCC is the obvious source; and that there's
a convenient summary available
? Of course, if you're a provocative public intellectual, then simply agreeing with the relevant authorities is uninteresting and might diminish your aura of controversiality.
But actually the answer is that he's even more muddled, because he segues straight into
I find it very difficult to distinguish valid environmental claims from environmental claims that are made as a secondary anti-capitalist front
. And indeed, that's a separate muddle one can get into, but it is nothing to do with temperature rise.
So, far from a clear-thinking intellectual, he's just a rather confused talking head.