See-also:
Yet more Exxonknew drivel
or
#exxonlied
.
When they run out of reality to talk about, people often drop back to arguing exactly
when
a thing was known. In this case the "thing" is GW, loosely defined... but what people are trying to say:
see, people knew, all those years ago
, is just wrong. Similarish points are made by ScienceOfDoom:
#CaliforniaKnew
, and
the debate is over
. And this kind of stuff matters because in
the Alsup case
the questions turn not so much upon climate science but upon blame, and uncertainty.
There are two linked reasonable questions: when would a reasonable, perhaps somewhat conservative, person have concluded there was strong scientific support for the attribution of warming to human activity; and when would such a person have concluded that "
action
" was desireable?
[Textual note: see note 4.]
Attribution of warming to human activity
This is sort-of the easy one, because the answer is the IPCC reports. You may - if you like - assert that various earlier reports were strong evidence to contradict the IPCC conclusions on this, but I won't believe you. Further, I don't think a court will believe you; it is clear that IPCC is the authority in this area - when it chooses to speak - and any Evil Oil Company that cares to rely on the IPCC will be able to put forward a host of official govt documentation that describes IPCC as authoritative.
IPCC '90 says
:
Global - mean surface air temperature has increased by 0 3°C to 0 6°C over the last 100 years... The size of this warming is broadly consistent with predictions of climate models, but it is also of the same magnitude as natural climate variability Thus the observed increase could be largely due to this natural variability, alternatively this variability and other human factors could have offset a still larger human-induced greenhouse warming
. That's unambiguously ambiguous.
[2021/11 update: for 1992,
see here
.]
IPCC '95
says
Our ability to quantify the human influence on global climate is currently limited because the expected signal is still emerging from the noise of natural variability, and because there are uncertainties in key factors... Nevertheless, the balance of evidence suggests that there is a discernible human influence on global climate.
"Balance of evidence" is the familiar common-law phrase, and is distinct from "
beyond reasonable doubt
", the criminal-law phrase. "discernible influence" is quite weak.
The TAR says
There is new and stronger evidence that most of the warming observed over the last 50 years is attributable to human activities
.
I think that a reasonable person could hover between '95 and TAR as to when human influence was "established", whatever that might mean; but that even a conservative reasonable person ought to have been convinced by the TAR in 2001
2
. Notice that all these reports were public, were discussed in the media and have been substantially disseminated by govts. No reasonably well informed person in the West can be excused from ignorance of their broad outline.
When would such a person have concluded that "action" was desireable?
"action" goes into quotes, because I don't care to try to define it here. It could mean anything, from fervent political attempts to impose carbon taxation, to banning or restricting fossil fuels, or pushing renewables, or whatever. Note that I'm not stating in advance that you need to have been convinced of the "attribution" question before agreeing on this one
1
. Another question in this area would be "action by
whom
exactly?"
I don't really have a good answer to this question. As hinted at above by #CaliforniaKnew, and by
some of my prior art
, one could make a not-unreasonable case that a great many people jumping up and down about Evil Oil Companies are not walking the walk themselves,
yet
, and therefore that action by individuals, or even individual companies, is not yet warranted or obligated.
Lay that aside for the moment and consider two opposing viewpoints. The first is that although human-caused warming wasn't clearly visible by, say, 1990; nonetheless the principle that emitting large and increasing amounts of CO2 was indeed clearly visible by then, and well agreed on. The other might be that only after attribution would you seriously consider future impacts. I don't think that latter is reasonable
5
.
However, even after agreeing that CO2 emissions will undoubtedly cause future warming, you're still left with the problem of
how much
. This is where stuff like the Callendar pic come in: if you don't even agree on the observed warming, you're not in much of a position to predict the future. Even now, substantial doubts remain about, say, climate sensitivity just for starters. I don't think that doubt is enough to stop us raising
Carbon Taxes
, but sadly I find myself in a minority on that score.
Propaganda
I still think that a finding against the FF companies on the grounds of "you burnt it, you pay" is
unlikely
; unless the judge concludes that FF sponsored propaganda was a significant factor in derailing efforts to reduce emissions.
Update: oops
I've added a note that I misread the graph (I blame Callendar
4
: he should have written "0.2", not 2-with-a-nearly-invisible-dot; did the man have no standards?). I've struck some text out that is no longer sustainable, and I haven't tried to find an alternative piece of wrongness. But - after not very much thought - I stand by my "see, people knew, all those years ago" being wrong because people didn't
know
; they were tentative and unsure. Feel free to argue this point in the comments; you might convince me.
Myles Allen: He's from Oxford. He talks a little funny, but I'm sure you'll be able to understand him.
Now
the transcript is available
- apologies for the source - we can see MA's view, which is, abbreviated:
Drawing all this together, drawing both our understanding of basic physics and understanding of the -- both understanding of the basic physics and the early simulations from global climate models, the 1979 National Academy of Sciences was able to draw the conclusions that they were expecting a warming of between one-and-a-half and four-and-a-half degrees for the equilibrium warming on doubling CO2.
Hmm. Maybe.
I'm here today representing Chevron Corporation
Not me of course. That nice Boutrous, Jr.
Chevron does not do original climate science research. Chevron accepts the consensus of the scientific community on climate change. That scientific consensus is embodied in the results of the Intergovernmental Panel on Climate Change, the IPCC. And that has been Chevron's position for over a decade.
That's a good line, if he can stick to it. As is:
it won't surprise the Court we believe the resolution of climate science issues aren't going to be determinative here for all the reasons in our motion to dismiss. That's for another day.
There's also a tantalising "Chevron does not agree with all the policy proposals analyzed by the IPCC" but he doesn't give details. More later, perhaps?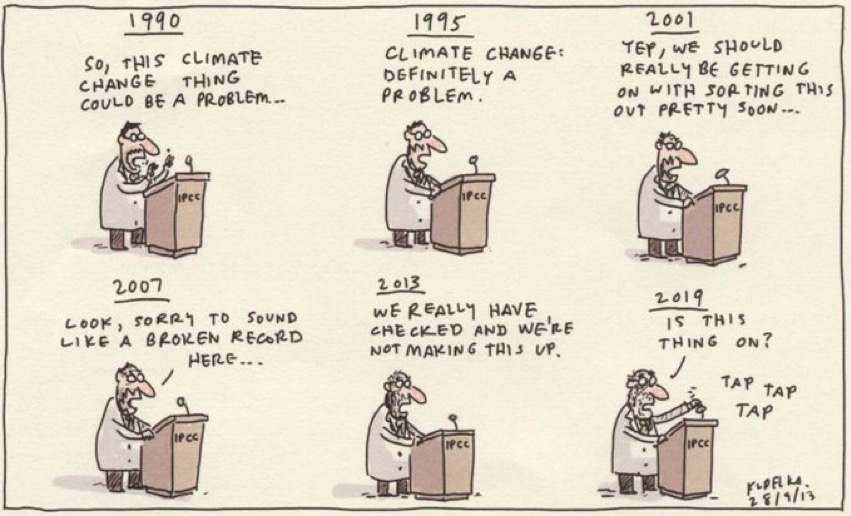 Notes
1. Boutrous (p. 88) gets this one wrong. I think, though he doesn't quite address it directly.
2. Boutrous rather "rolls" over the TAR, and puts more faith in AR4. That wasn't very subtle of him. Also, p. 96, both he and Hizzonor misread the CO2 feedbacks during the ice ages, so Myles did a poor job on that.
3. P. 119 is the court noting that it's going to approve the amicus submissions, sadly, so we won't have the pleasure of seeing them rejected.
4. When I first wrote this, I got carried away and wrote some nonsense re reporting Callendar. That got corrected, almost immeadiately, as soon as someone pointed out my error (see comments). But, it gets in the way of reading this post, so I've now [2021/04/28] updated this post to remove the error entirely. If you'd like to see me getting it wrong, fear not, you can, I've archived it at
https://archive.is/CXIYX
. I've had to slightly mangle the text because it couldn't be cleanly cut out.
* 2023/04: even SR agrees with me, see
this Twit
pushing the cartoon I've added.